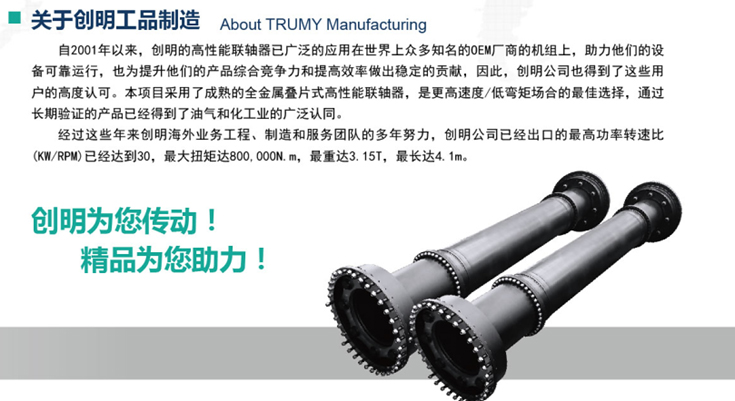 Presentation of engineering customization capability and cases
1.Experience on severe projects under extreme conditions:
TRUMY has delivered a large number of extremely reliable and maintenance-free diaphragm couplings. Our extensive industrial application experience also provides rich materials for upgrading, improving economy and extreme applications of our products. Using FEA and computer-aided manufacturing technology, engineers have combined new technologies in the turbine and aerospace fields to enrich the application capability of transmission products in harsh conditions, such as:
a.Reliable application of long shafts and high speed;
b.Low wind resistance design to reduce energy consumption and temperature rise;
c.Special design of low bending moment/low stiffness;
d.Application of composite materials/titanium shafts in special industries;
e.High strength stainless steel 15-5/17-4 application;
f.Flexible elements for shot peening when necessary;
2.Presentation of engineering customization capability and cases
TRUMY has the extensive experience on connection and joining complicated units in the industry, able to meet the flexible drive connection demand for standard and customized units of various OEM manufacturers. In various products we have delivered, customized equipment already in stable application include:
a.Application of long shaft with unit length over 12m;
b.Customized test bench products with total weight over 6.5T;
c.Application of large torque diaphragm with diameter over 3m;
d.High speed applications with speed over 60,000 RPM;
(Detailed presentation of application and solution examples of various special functions)
For any demand of high speed/large torque transmission for special applications, please contact TRUMY engineers for more details.